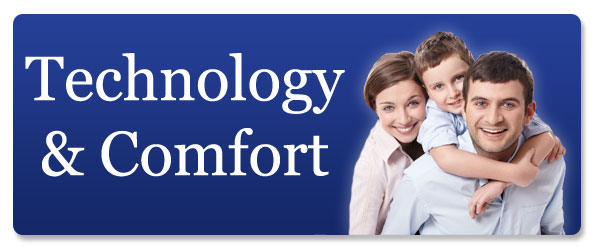 Modern Dentistry at its Best
We recognize that many people worry about dental visits, so we have created a friendly environment for our patients. Our team will answer any questions, and Dr. Salvato will ease your concerns before beginning treatment. During your dental procedure, we have televisions available for your viewing pleasure. We will monitor your comfort the whole time and tend to any requests you have as soon as they arise.
In the Know
Dr. Salvato follows the latest advances so that he can stay up-to-date on changes and trends in the industry. He has implemented dental technology and invested in tools that will gather valuable information and keep patients comfortable. We offer the following technology:
Chairside monitors
Digital X-rays
Intraoral cameras
ViziLite oral cancer screenings
Ultrasonic scaling
Nitrous Oxide
Some people experience a higher level of dental anxiety, so we offer nitrous oxide during treatment. This sweet smelling colorless gas delivers a low level of sedation to increase the patient's ability to relax. With nitrous oxide, you will breathe in the gas through a mask that gently rests over your nose. Patients typically experience a warm, groggy feeling that only lasts while they are receiving the nitrous oxide. Any side effects will immediately disappear once we turn off the gas and administer plain oxygen.
Achieve a Fabulous Smile
Experience quality dentistry and exceptional care. Call our Westfield dentist office to make an appointment with Dr. Salvato. Located in Westfield, our dental practice is convenient for residents of Mountainside, Scotch Plains, Cranford, and the surrounding areas.