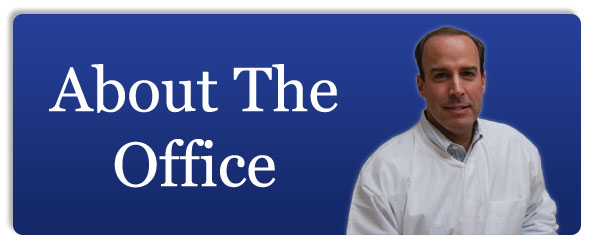 Introducing Our Dentist and Team
Meet Dr. Frank Salvato
After completing his undergraduate studies at the University of Richmond, Dr. Salvato attended the Farleigh Dickinson College of Dental Medicine. He also earned his AEGD, Advanced Education in General Dentistry. In 1996, his father transferred the practice to Dr. Salvato. His professional memberships include the American Dental Association and the New Jersey Dental Association.
For 18 years, Dr. Salvato has been married to his beautiful wife Lisa, with whom he has twins, a boy and a girl. Their family of animals includes a fish and two cats. Dr. Salvato is passionate about golf, fitness, health, and the New York Giants.
Meet the Team
Gloria Saylor, Office Manager
With warmth and concern, Gloria has welcomed patients into our practice and worked as our office manager. She joined the team in 1993 and has completed a certified dental health program. Gloria loves seeing patients on a regular basis and getting to know them personally. Happily married, Gloria and her husband, Paul, have a daughter, son-in-law, and twin grandchildren. Outside the office, Gloria spends her time reading, taking long walks, and hanging out with her grandkids.
Donna Dowling, Dental Hygienist
Since 1992, Donna has provided thorough hygienic care to our patients. She is certified in expanded function and regularly exceeds her continuing education requirements. Passionate about teaching patients how to preserve their smiles, Donna takes the time to listen to their stories and learn more about their lives. She and her husband, Steve, have a dog named Ouija. For fun, Donna loves swimming, canoeing, paddle boating, and spending time at her vacation home in the Poconos.
Drue Ann Lindsay, Dental Hygienist
For 20 years, Drue Ann has functioned as a valuable member of our team. She studied at Union County College and was certified by Dental Health Technologies as a dental health coach. Drue Ann focuses her efforts on helping patients attain optimal oral health. Happily married for 20 years, Drue Ann and her husband, Joe, share their home with their adorable cats. Her hobbies include traveling, gardening, antiquing, and exploring the New York museums.
Lisa Schuermann, Registered Dental Assistant
After finishing her education, Lisa began her career as a dental assistant and has worked at our practice since 1997. As a dental fitness coach, Lisa supports our patients as they strive to achieve their personal goals. Married to her husband, Ron, Lisa also has a son and daughter. To relax, Lisa likes walking, reading, shopping, and gardening.
Candace Lesofski, Dental Assistant
In 2010, Candace joined our practice. She completed her dental assistant training at the Union County College, including her dental X-ray certification. Candace makes patients feel welcome with her personable demeanor. She is the proud mom of four children. In her free time, Candace enjoys gardening, home improvement, and physical fitness.
Achieve a Fabulous Smile
Experience quality dentistry and exceptional care. Call our Westfield dentist office to make an appointment with Dr. Salvato. Located in Westfield, our dental practice is convenient for residents of Mountainside, Scotch Plains, Cranford, and the surrounding areas.